S V A L B A R D E X P E D I T I O N
SOLD OUT FOR 2019.
Last fall I travelled the furthest North I'd ever been, documenting the pristine wilderness of Svalbard for the first time. Experiencing some of the most unique glacial mountains and resilient wildlife I'd ever seen, my connection to this Arctic landscape has grown strong.
This year, I'm preparing for one of my biggest trips in the Arctic to date, travelling by ship to the Northern coast of Svalbard. I'm thrilled to announce that you could have the opportunity to join me on board. Alongside a great group of photographers and guides, I have secured four of my own places on the ship for you be a part of this experience. With photographers in mind, I will work directly with my team of four throughout the trip to refine your creative eye and visual style. We will shoot together amidst one of the most remote areas of Svalbard, only reachable by ship, home not only to some of the most magnificent outlet glaciers on the planet, but also to one of the worlds most pristine Arctic wildlife areas. It's going to be a true photographic adventure.
Scroll down for all of the information on how to apply ⇓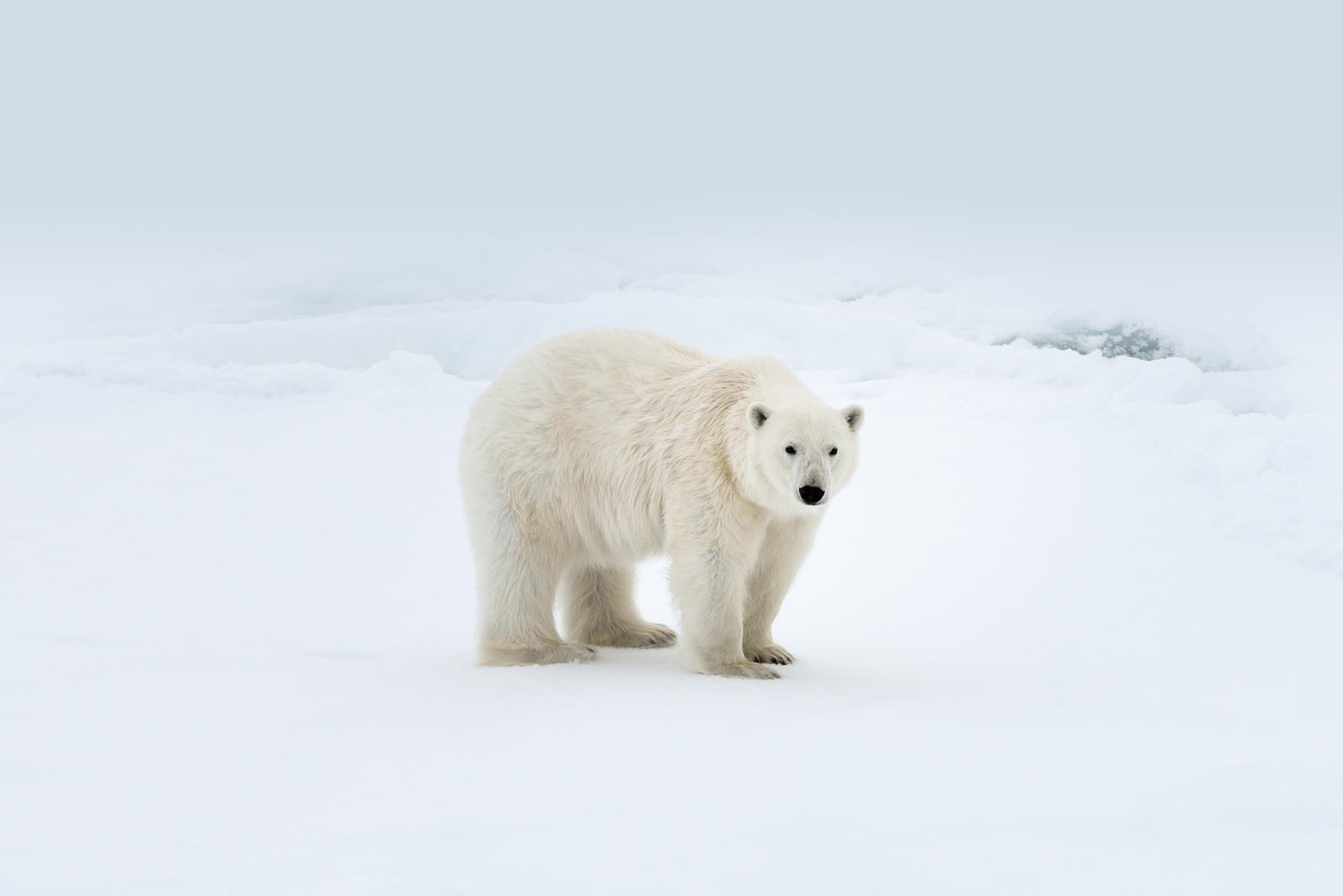 THE LAND OF THE POLAR BEAR.
This expedition will be carried out on a ship over ten nights, focused purely on photography and the experience of being completely disconnected. We'll be starting out and ending in Longyearbyen, where we will board the ship and unite with a small group of other photographers as well as my great friends and fellow guides Hannes Becker, Lina Kayser and our expedition leader Michael Ginzburg. We will be travelling aboard the ship M/V Kinfish, with a maximum of 12 guests on board. With the small total group size, this ship was selected to keep our experience intimate and fully embrace the peacefulness of the spring season in Svalbard.
Travelling between late April and early May gives us the opportunity to photograph Polar Bears and their cubs. At this time of year, the mother bears will bring their cubs out on the sea ice to find food. As it is the spring season, there's usually ice left in the fjords and around the mainland, so we will be able to follow the ice as it slowly drifts North. The chances for seeing them from the ship should be really good, and it's great way to photograph them without any disturbance - something that is extremely important for us. The ship has a spacious deck at a low level that will allow for us to achieve some really amazing shots.
Polar Bear Safety - We are guests in the home of the polar bear and will act respectfully to ensure that they are undisturbed by our presence. The safety of our guests and not least the safety of the polar bear will always be top priority. Our expedition leaders are experienced and certified guides, with extended knowledge on polar expeditions. Though extremely rare, they have the skills and training on how to safely handle any potential situation that could arise.
ITINERARY
27th April: Embarkation day
We will welcome you on board the ship at Longyearbyen harbour at 4 pm. Get settled in your cabin, and get to know your expedition team and fellow explorers.
28th April through 6th of May: Expedition days
This will be an Arctic expedition in the rightful meaning of the word. Even though our route is carefully planned in advance, we might face some route changes along the way based on ice conditions, weather and wildlife - and your wishes of course! If conditions allow this might be some of the highlights:
Visiting the abandoned Russian settlement Pyramiden, a great place to spot the Arctic Fox
Cruising amongst the icy waters in front of the breathtaking glaciers Monacobreen and Smeerenburgbreen
Sailing north towards the ice edge in the search for polar bears
Hike on the tundra to look for Reindeer
Sailing through the Hinlopen straight and get close to the dramatic cliffs of Alkefjellet
We can also expect to see walrus and seals relaxing on the ice, whales and seals swimming as well as a variety of arctic bird species
7th May: Disembarkation day
You will wake up at harbour in Longyearbyen and disembark at around 08:00 am.
THE HOSTS
BENJAMIN HARDMAN
Benjamin is an Australian freelance photographer based in the South of Iceland.
With a strong focus on the Arctic region, Benjamin's work reflects the lifestyle and intense seasonal shifts seen across the landscape in this part of the world. After years of photographic exploration throughout the mountains of Iceland, Benjamin now travels regularly into the high-Arctic, working to create a unified visual story of the freezing North through photography.
TRIP DETAILS
DATES: April 27TH - MAY 7TH 2019
PRICE: $9,590 USD // €8,500 Euros
seats: 4 places available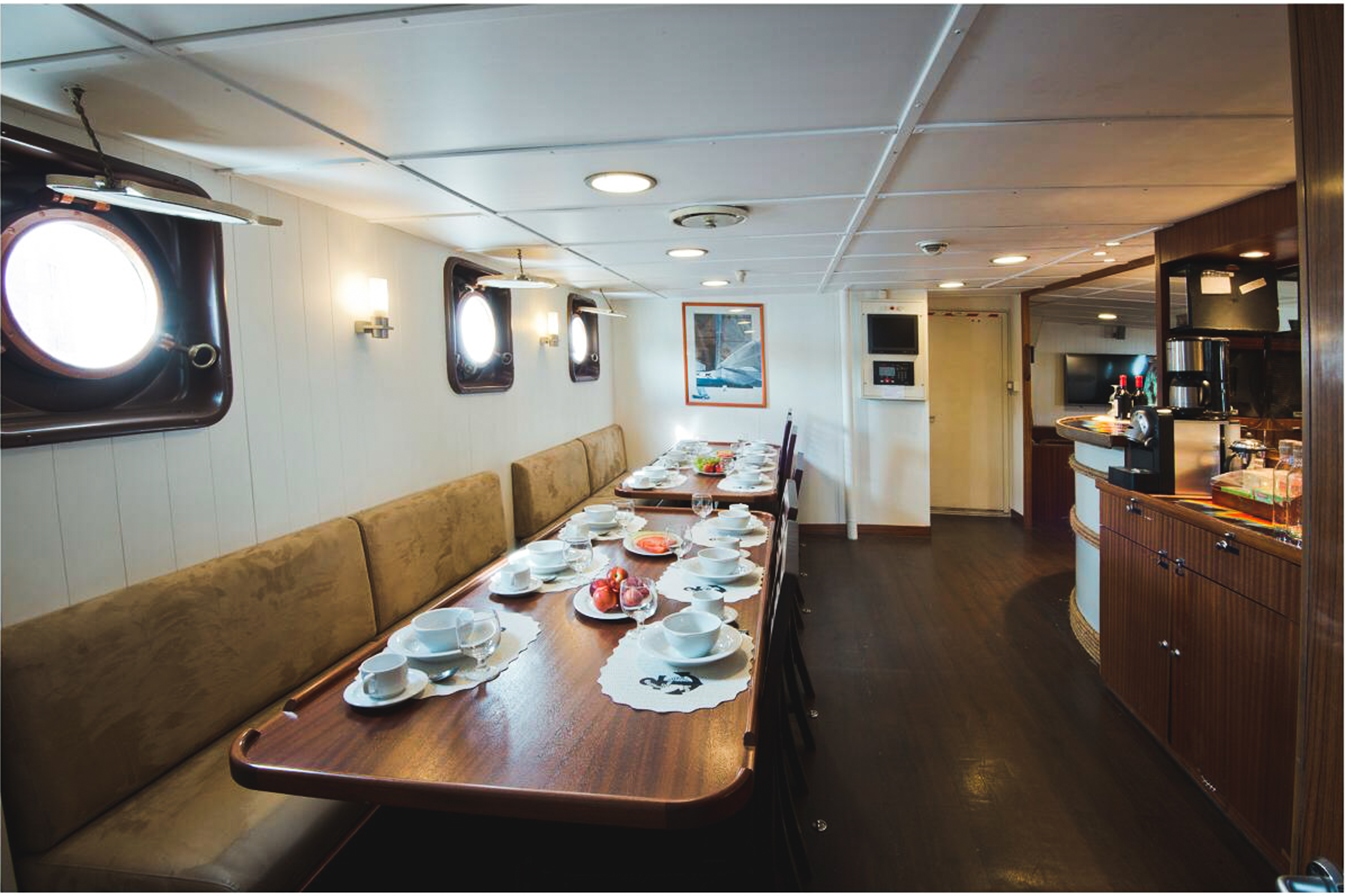 INCLUDED
10 nights accomodation on board the ship
All meals (breakfast, lunch, dinner, coffee, tea, snacks)
Zodiac excursions
Photography mentoring on location
Post processing tutorials and editing sessions
Professional tele zooms and cameras for loan
NOT INCLUDED
Flights to and from Svalbard
Accommodation before and after the expedition
Personal travel insurance including camera gear
Snacks and beverages from the bar
LOCATION MAP
FAQ
What level of photography is required?
Anyone is welcome on this expedition, wether you are a beginner, enthusiast or pro. If you are a passionate beginner we will help you with the technical skills, and for the pros we will do our best to get you the shots you have dreamed of.

What camera gear should I bring?
A DSLR or Mirrorless camera body and lenses of your choice. The best combination is to bring both a wide angle and a tele lens, or a zoom lens like 80-400 mm. A sturdy tripod is useful for heavy lenses and bring your laptop and external hard drives for editing sessions. Keep in mind that the climate in the Arctic can be very harsh with strong winds, cold temperatures, snow and ice. Extra batteries is crucial. We will also have a variety of camera gear on board that you can try out and loan.
Can I bring my drone?
It is possible to use your drone on Svalbard, but there are several restrictions you must be aware of and follow. Keep in mind that the cold temperatures can make your battery drop from 100% to 0 in seconds and being this far north can disturb your gps and compass. It is very easy to loose control over your drone in these conditions. Disturbing wildlife on Svalbard is prohibited and it is prohibited to use your drone in Longyearbyen. See more: https://www.sysselmannen.no/globalassets/sysselmannen-bilder/annet/beredskap/droneplakat.jpg

How will the weather be?
In the Arctic you need to be prepared for anything. Temperatures down to -20°C / -4°F can be expected, and in combination with strong winds and snowfall it is going to get cold. We will spend quite amount of time outside on deck photographing and looking for wildlife. Make sure you pack to stay warm.

Will we see any wild animals?
The chances are very high that we will see wildlife, but with wild animals no guarantees can ever be given. The expedition team are experts in their fields and will know where to go for the best opportunities. Animals that we can expect to encounter is the polar bear, arctic fox, walruses, reindeer, seals, whales and arctic birds.

Will there be any activities?
We will do zodiac excursions and landings on shore, and if conditions allow we will do some hiking. The main purpose for the hikes will be getting to awesome photo locations and viewpoints. There will also be editing sessions on board the ship in-between the shootings.

How do I get to Svalbard?
There are daily flights from Oslo to Longyearbyen and flying time is less than 3 hours. Be aware of the mandatory ID control for all travellers, also Norwegains, so don't forget to bring your passport or national ID card.
applications are NOW closed.
Feel free to contact me if you have any additional questions!
All bookings will be handled by Lina ahead of the trip.
Benjamin: hello@benjaminhardman.com